We've managed to catch up with Faith Horsley to ask her a few questions about her recent Spooky Night Swim to fundraise for Packed with Smiles.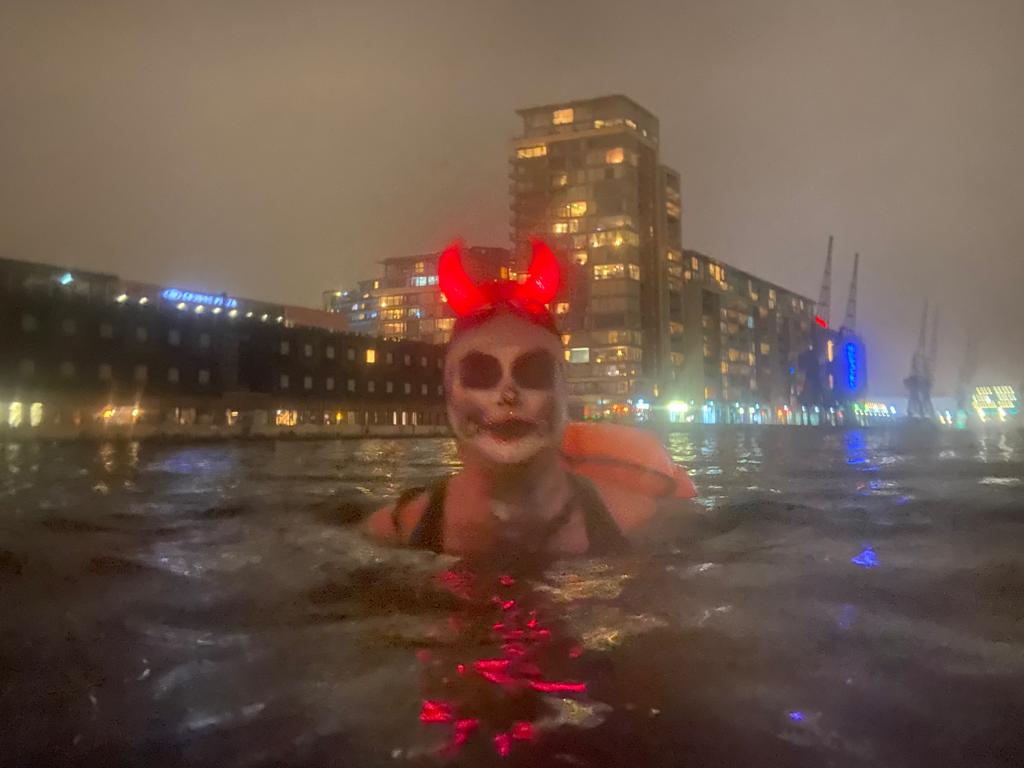 So Faith, we all think you're a bit brave and maybe a bit crazy! What made you want to dip into sub 10 degree water and swim in the Royal London Docks at night time?
I love open water swimming and this year I have swum in our beautiful Estuary all through the summer. I wanted to push myself and be able to swim through the winter months too. I've been swimming regularly in cold water and I thought this would be a great personal challenge, to swim in a totally different location, in the dark, in very cold water, and on a scary and ghoulish night!
And where did the decision to raise money for PWS come from?
I had a number of people asking to sponsor me for this challenge and as my day to day open water swimming is part of my personal wellness, combining something that I was already going to do with the opportunity to support PWS made total sense.
Were you scared?
I was a little apprehensive before dipping in, for sure, but the adrenaline was really pumping and carrying me through that! The feeling afterwards though was just incredible and I was on a complete high!
Would you do it again?
Without a doubt! Next time though, it would have to be bigger and bolder to top this one and push myself further out of my comfort zone!
Well, congratulations on raising £3,045 and counting! How did you go about asking for sponsorship for the swim?
Ah, this is one of my well-known traits! I posted some details of the event, a link to donate to, along with information about the charity to Facebook one week before the event took place, and within 24 hours had raised nearly £1,000. I was utterly thrilled that people were engaging with it and making donations. I think it's something that most of my friends and colleagues wouldn't want to do and so they were happy to sponsor me to do it! I reached out to family, friends and several groups that I belong to, some national, even some international who commented and donated. I think that can be quite inspiring to the audience you are reaching out to.
How did the experience make you feel?
The whole thing was incredibly uplifting. To be honest with you, putting myself out there was totally out of my comfort zone initially, but once I did my first social media post, that was it, I was committed and a little bit hooked after I received so many positive responses. On a personal note, I always feel it a real privilege to do something for the greater good and knowing that I am helping my local community is really impactful and important to me. The ultimate endorsement for doing a challenge like this actually comes from that community, so it's like a full circle experience.
That's great!. What would you say to people who are considering setting themselves a challenge to raise money for Packed with Smiles?
Do it! You'll get so much out of the experience! Individual or even group fundraising challenges like this are so much more than just raising money for the cause, they also raise awareness for what the local charity is trying to achieve, so it really doesn't matter if you raise £5 or £5,000, the exposure for a small charity is just as powerful. Turning your 5k run or tough mudder experience into a sponsored challenge or selling your homemade banana bread to family and friends to donate proceeds; we are all doing things every day that could transform into an opportunity to make a difference. If more people were willing to think about 'how', can you imagine the impact of that for a small local charity?!
Any other plans for more crazy fundraising?
Yes, absolutely! I'm just considering my next challenge as we speak and I am also trying to encourage others to have a go at setting some personal challenges. It's an incredibly uplifting experience and I would thoroughly recommend it!
N.B. This event was an organised swim meet, run by professionals and in a COVID safe environment and pre lockdown.